The Advantages of Mechatronic Simulation at KOSTAL
For 60 years, the technology manufacturer KOSTAL Group has been implementing various electrical systems in cars, making your driving experience more enjoyable. For instance, the Automotive Electrical Systems division of KOSTAL placed indicator switches near the steering wheel and created integrated-function push buttons. Over the years, their patents and designs have become more complex and revolutionary. Currently, they are working on optimizing the design of their roof modules for premium cars using mechatronic simulation.


Simulating Mechatronics in Roof Modules
The automatic light that turns on when a car's doors are opened is housed in the roof module in the interior of a car. While at one time these modules contained only this automatic light, today they also contain a whole host of other components as well, such as satellite navigation systems, antitheft capabilities, and ambient lighting. Additionally, since the automotive industry has been moving towards the use of LED displays instead of classic light bulbs, roof module designs must now contain heat dissipation systems to remove the heat produced by the LED displays.
When designing these mechatronic roof modules, researchers from KOSTAL Group faced a daunting task: they needed to simultaneously optimize the performance of the electrical, thermal, and electromagnetic components within the modules, while also overcoming the space constraints caused by having so many components. By using COMSOL Multiphysics to optimize the dimensions of each element from the beginning of the design process, KOSTAL engineers were able to develop a clear idea of the final product right from the start.
With a clear picture of the roof module in mind, they were also able to include further innovations. One of these new innovations was the implementation of a capacitive sensor system. However, introducing such a system posed additional design challenges.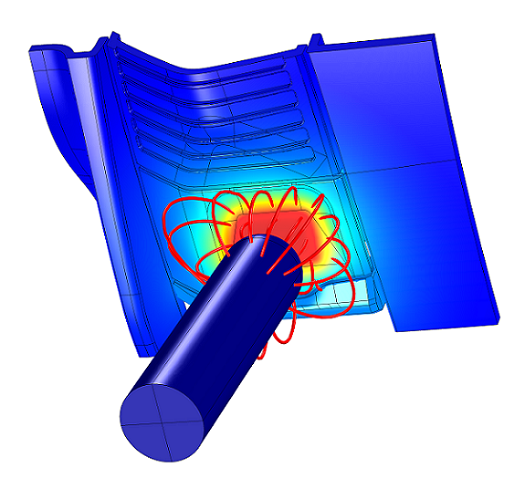 Model of the electrostatic properties of a capacitive sensor system, including a finger dummy, approaching the capacitive sensor in a COMSOL Multiphysics simulation.
The idea behind placing a capacitive sensor system in a roof module stems from the current industry trend toward minimizing the use of mechanical switches and buttons, such as in touchpad-style tablets and smartphones. In a car however, the implementation of such a system requires additional considerations. There needs to be a combination of feedback types inherent in the design. The visual interface of such a design is appropriate while the user is stationary, but technologies like haptic feedback or vibration must come into play once the car is in motion. When commenting on these design challenges, Matthias Richwin, senior manager for technology development and quality using simulation at KOSTAL noted that they also "have to consider the potential for different sizes of fingers and thumb-pads, and the presence of additional material, such as a glove or hand cream. Then we have to decide on the level of sensitivity: whether we want proximity, whereby a finger has not yet touched a surface but is within a few centimeters, actual touch, or a combination, in which the sensor first detects the approach of a finger and then registers the touch."
Using mechatronic simulation, KOSTAL is experimenting with developing new surface materials and optimizing their thickness for the capacitive sensors. One such material is a premanufactured plastic foil that enables the conductive structure to be printed, therefore allowing more flexibility and reliability.
See What Else KOSTAL Is Working On
While fascinating in itself, the innovative implementation of mechatronics technology in cars only paints part of the picture when it comes to research at KOSTAL. I suggest you read all about the electrical development and innovation taking place at KOSTAL in the COMSOL News article "Switching Made Easy". You can also read about a number of other applications where simulations are helping manufacturing processes in COMSOL News 2013.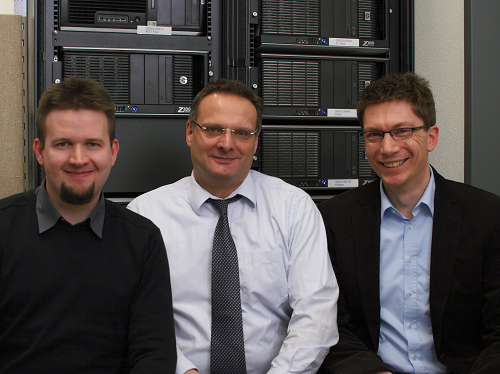 KOSTAL researchers: Daniel Klagges, Ingolf Munster, and Matthias Richwin.