COMSOL Certified Consultants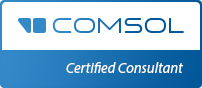 Os Consultores Certificados COMSOL usam sua extensa experiência com o COMSOL Multiphysics e nossos produtos relacionados para entregar soluções do tipo "chave na mão" para uma ampla gama de projetos de modelagem. Eles produzem modelos prontos para rodar e relatórios com uma profunda análise dos resultados da simulação.
Click on the name of a certified consultant below to learn about the services they offer, or find certified consultants with a specific area of expertise by using the search tool.
A COMSOL designa certas pessoas ou empresas como Consultores Certificados baseada na proficiência relatada por aquela pessoa ou empresa no uso dos softwares da COMSOL e baseado nos padrões que a COMSOL ajusta e revisa de tempos em tempos. A COMSOL não participa da entrega de produtos ou serviços de qualquer Consultor Certificado. A COMSOL não faz qualquer indicação de que algum Consultor Certificado em especial possui as habilidades ou experiência requeridas para suas necessidades e encoraja você a pesquisar um Consultor Certificado de modo a determinar isso por você mesmo.