Fatigue Module
Analyze Stress- and Strain-Based High- and Low-Cycle Fatigue with the Fatigue Module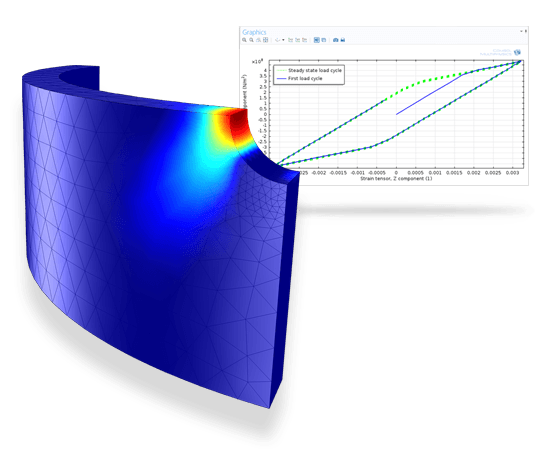 Análise de Fadiga Para Várias Estruturas e Aplicações Diferentes
Quando as estruturas são submetidas a carregamentos e descarregamentos repetitivos, devido à fadiga do material, elas podem falhar com carregamentos abaixo do limite estático. Uma análise virtual de fadiga pode ser realizada no ambiente COMSOL Multiphysics através do Fatigue Module, um complemento do Structural Mechanics Module, o qualcontém uma coletânea de modelos de fadiga. A aplicabilidade de cada modelo depende de fatores tais como o tipo de material e carregamento. Os tradicionais métodos stress-life e strain-life relacionam as amplitudes de tensão ou deformação com a vida de fadiga. Juntamente com os métodos dos planos cítricos baseados em tensões e deformações, pode-se avaliar o regime de fadiga de alto ciclo ou baixo ciclo. Em aplicações que envolvem materiais não-lineares, é possível utilizar métodos baseados em energia ou modelos Coffin-Manson para simular fadiga térmica. Ao lidar com cargas variáveis, os danos acumulados podem ser calculados a partir do histórico de carregamento e do limite de fadiga. O ciclo de carregamento de fadiga pode ser simulado em corpos sólidos, placas, cascas, multicorpos, aplicações que envolvem tensões térmicas e, até mesmo, em dispositivos piezelétricos. Para melhorar a eficiência computacional ao se lidar com fadiga iniciada em superfícies ou sub-superfície, o cálculo de fadiga pode ser realizado em domínios, contornos, linhas e pontos.
---
Imagens adicionais:
Análise de fadiga de alto ciclo para cargas não proporcionais usando métodos de plano crítico.
A distribuição dos ciclos de tensão em um determinado momento conforme computada pelo algoritmo de contagem Rainflow usando uma representação do Histograma da Matriz. As tensões médias são dadas no eixo horizontal e as amplitudes de tensão são dadas no eixo vertical.
Junta soldada em um resistor montado em superfície. Previsão de vida baseada na energia de fluência dissipada em ciclo de fadiga térmica
Curva de Fadiga
Quando se analisa fadiga através dos métodos clássicos, as amplitudes de tensões, ou deformações, se relacionam com a vida de fadiga através da curva de fadiga. Os modelos stress-life e strain-life disponibilizam uma coletânea de métodos onde a curva de fadiga pode ser definida de diferentes modos. Esses modelos são aplicáveis a carregamentos proporcionais quando, por exemplo, uma única carga oscila entre dois valores. É possível resolver fadiga de alto ciclo com modelos stress-life contendo a curva S-N clássica, modelo de Basaquin, ou uma curva S-N aproximada. Já, a predição de fadiga de baixo ciclo pode ser feita usando-se modelos strain-life contendo a curva E-N, o modelo de Coffin-Manson e o modelo combinado de Basquin e Coffin-Manson.
Modelos de Plano Crítico Baseado em Tensões e em Deformações
Modelos de plano crítico buscam por um plano que seja mais favorável à iniciação e à propagação de rachaduras onde ocorrerá a fadiga. Eles estão disponíveis no Fatigue Module tanto para modelos baseados em tensões quanto deformações. Para fadiga de alto ciclo, quando a plasticidade é bem limitada, normalmente utiliza-se modelos baseados em tensões. No Fatigue Module, eles são calculados pelos critérios de Findley, de Tensão Normal e de Matake, que calculam o fator de uso da fadiga, que é comparado ao limite de fadiga.
Os modelos baseados em deformações avaliam deformações ou combinações de deformações e tensões para definir um plano crítico. Depois de identificar o plano crítico, eles preveem o número de ciclos até a falha. O Fatigue Module inclui os modelos de Smith-Watson-Topper (SWT), Fatemi-Socié e Wang-Brown. Esses modelos são geralmente usados em fadiga de baixo ciclo nos quais as deformações são grandes. A regra de Neuber e o método de Hoffmann-Seeger estão à disposição para aproximar o efeito da plasticidade em uma rápida simulação linear elástica. Também é possível considerar um ciclo de carregamento elastoplástico completo usando o Nonlinear Structural Materials Module.
Visualizando Seus Cálculos de Fadiga
O Fatigue Module calcula o número de ciclos até a falha, bem como o fator de uso de fadiga. Em simulações de dano acumulado, a distribuição de tensões de um carregamento aleatório aplicado pode ser ilustrada junto com o fator de uso relativo. Essa simulação exibe contribuições de uma carga de fadiga específica para o fator de uso de fadiga em geral, que, neste caso, é visto como dano. A distribuição das tensões é apresentada em função amplitude de tensão e da tensão média.
Análise de Dano Acumulado
Cargas aleatórias introduzem uma variedade de tensões com diferentes amplitudes em uma estrutura. No Fatigue Module, a análise do Dano Acumulado não só identifica as tendências gerais no histórico de tensões, mas também calcula o dano acumulado a partir de cada uma delas. O histórico de tensões pode ser avaliado pela tensão principal ou tensão de von Mises, com um sinal determinado pela tensão principal ou hidrostática. O histórico de carregamento é então processado com o algoritmo de contagem Rainflow e o dano é calculado usando a regra do dano linear de Palmgren-Miner. O efeito do valor da razão entre a amplitude de tensão e a tensão média (R) é incorporado através da curva limite S-N.
Quando o número de eventos de carga é grande em uma análise de carregamento aleatório, a simulação do ciclo de carregamento requer tempo. Isso pode ser reduzido em grande parte se os efeitos não lineares não estiverem presentes na simulação. Nesse caso, o ciclo de tensão pode ser prescrito com a ajuda de uma superposição, selecionável em uma análise de Dano Acumulado. O uso dessa técnica não só economiza tempo de computação, mas também diminui consideravelmente o tamanho do modelo que precisa ser armazenado para avaliação da fadiga.
Fadiga Térmica
Expansão ou contração de material devido a variação de temperatura introduz concentração de tensões e acúmulo de deformação que podem levar à falha. O Fatigue Module possui várias ferramentas para resolver este problema através do modelamento de fadiga térmica. O ciclo de carregamento térmico pode ser simulado usando as interfaces Thermal Stress e Joule Heating and Thermal Expansion. Falha por fadiga térmica pode ser calculada por vários modelos de fadiga. Para materiais não-lineares, isto inclui o modelo Coffin-Manson e as relações de Morrow e Darveaux que são baseadas em energia. Além das opções de deformações inelásticas ou energias dissipadas, os modelos de análise de fadiga podem ser modificados pelo usuário para calular expressões customizadas em função da deformação ou energia durante o cálculo de fadiga.
Vibration Fatigue
Vibration fatigue is an evaluation method based on a frequency-domain analysis making results available for a number of frequencies. It is used for predicting the results from a common type of experiment where a structure is subjected to an excitation with increasing frequency, sometimes called a sine sweep analysis. The following settings are available for vibration fatigue analyses:
A certain time spent at each frequency
A certain number of cycles spent at each frequency
A linear increase of frequency
A logarithmic increase of frequency
Recursos do Produto
Métodos do plano crítico
Dano acumulado
Fadiga baseada em tensão
Fadiga baseada em deformação
Fadiga baseada em energia
Método Wang-Brown
Critério de Basquin
Critério de curva S-N aproximada
Critério de curva E-N
Critério de Coffin-Manson
Critério de Basquin e Coffin-Manson combinados
Critério de Findley
Critério de Matake
Critério das tensões normais
Critério de Fatemi-Socie
Critério de Smith-Watson-Topper (SWT)
Critério de Wang-Brown
Correção de Morrow para tensão média
Critério de Darveaux
Critério de Morrow
Contagem de tensões Rainflow
Regra de dano Palmgren-Miner linear
Métodos aproximados para cálculos de fadiga em materiais elastoplásticos
Next Step:
Request a Software
Demonstration
Every business and every simulation need is different. In order to fully evaluate whether or not the COMSOL Multiphysics® software will meet your requirements, you need to contact us. By talking to one of our sales representatives, you will get personalized recommendations and fully documented examples to help you get the most out of your evaluation and guide you to choose the best license option to suit your needs.
Just click on the "Contact COMSOL" button, fill in your contact details and any specific comments or questions, and submit. You will receive a response from a sales representative within one business day.