Molecular Flow Module
Software Para Modelar Escoamentos Gasosos à Baixa Pressão em Sistemas à Vácuo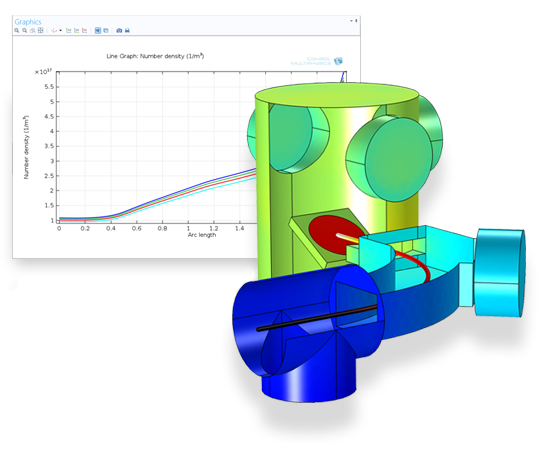 Entendendo e Prevendo Escoamentos Moleculares Livres
Engenheiros de vácuo e cientistas usam o Molecular Flow Module para projetar sistemas à vácuo e para entender e prever escoamentos de gases a baixas pressões. O uso de ferramentas de simulação no ciclo de projeto se torna mais disseminado conforme essas ferramentas melhoram o entendimento, reduzem os custos com prototipagem e aceleram o desenvolvimento. A prototipagem de sistemas à vácuo normalmente é cara. Portanto, um aumento do uso da simulação no processo de projeto pode resultar em substancial redução de custos. Os escoamentos gasosos que ocorrem dentro de sistemas à vácuo são descritos por físicas diferentes das usadas em problemas convencionais de escoamento de fluidos. Em baixas pressões, o caminho livre médio das moléculas do gás se torna comparável às dimensões do sistema e a rarefação gasosa se torna importante. Os regimes de escoamento podem ser categorizados quantitativamente através do número de Knudsen (Kn), o qual representa a razão entre o caminho livre médio molecular e o tamanho da geometria do escoamento dos gases:
| Tipo de Escoamento | Número de Knudsen |
| --- | --- |
| Escoamento contínuo | Kn < 0.01 |
| Escoamentos com escorregamento | 0.01 < Kn < 0.1 |
| Escoamentos transicionais | 0.1 < Kn < 10 |
| Escoamento molecular livre | Kn > 10 |
---
Enquanto o Microfluidics Module é usado para modelar escoamentos contínuos e com escorregamento, o Molecular Flow Module é projetado para simular com precisão escoamentos no regime molecular livre. Historicamente, escoamentos nesse regime são modelados pelo método direto de Monte Carlo (DSMC). Este calcula as trajetórias de um grande número de partículas aleatórias através do sistema, mas introduz ruído estatístico ao processo de modelagem. Para escoamentos de baixa velocidade, tais como aqueles encontrados em sistemas à vácuo, o ruído introduzido pelo DSMC tornas as simulações inviáveis.
Imagens adicionais:
Modelagem Precisa de Escoamentos Gasosos à Baixa Pressão e Baixa Velocidade
O Molecular Flow Module é projetado para oferecer capacidades de simulação previamente indisponíveis para a modelagem de escoamentos gasosos a baixas pressões em geometrias complexas. Ele é ideal para simulações de sistemas à vácuo, incluindo aqueles usados no processamento de semicondutores, aceleradores de partículas e espectrômetros de massa. Aplicações envolvendo pequenos canais (por exemplo, exploração de gás de xisto e escoamentos em materiais nanoporosos) também podem ser modeladas. O Molecular Flow Module usa o método do coeficiente angular para simular escoamentos moleculares livres em regime permanente o qual permite que o fluxo molecular, pressão, densidade de número e fluxo de calor sejam calculados nas superfícies. A densidade de número pode ser recuperada em domínios, superfícies, arestas e pontos, a partir do fluxo molecular das superfícies ao arredor. É possível modelar escoamentos moleculares isotérmicos e não isotérmicos e calcular a contribuição das moléculas gasosas para o fluxo de calor.
Innovative Thermal Insulation Techniques Bring Vaccines to the Developing World
D. Gasperino, O. Yildirim Intellectual Ventures, WA, USA
When medical professionals transport vaccines, their cargo needs to be kept at a cool temperature. This limits their ability to travel to regions where there is not enough electricity. Intellectual Ventures' Global Good program designed a thermos-like container that is powered by ice and keeps vaccines cool for long periods of time. They used ...