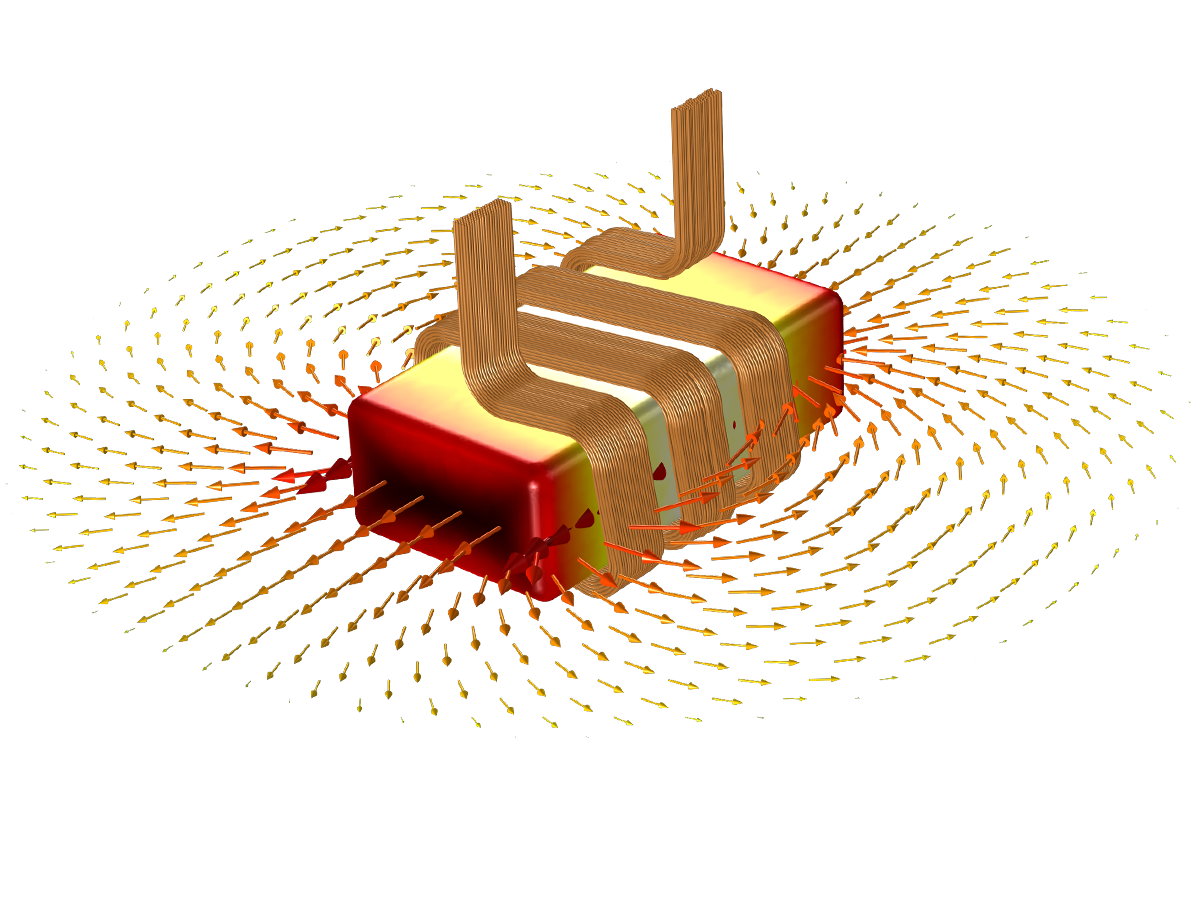 Simulate Static and Low-Frequency Electromagnetics with the AC/DC Module
Simulation Software for Low-Frequency Electromagnetics and Electromechanical Components
Analyzing electromagnetic systems and processes that encompass static and low-frequency ranges requires a powerful and flexible simulation tool. The AC/DC Module add-on to the COMSOL Multiphysics® platform provides you with a wide range of modeling features and numerical methods for investigating electromagnetic fields and EMI/EMC by solving Maxwell's equations.
The multiphysics capabilities of the COMSOL® software make it possible to investigate the impact of other physical effects, such as heat transfer, structural mechanics, and acoustics, on an electromagnetics model.
What You Get with the AC/DC Module
When you expand COMSOL Multiphysics® with the AC/DC Module, you unlock features for specialized low-frequency electromagnetics modeling in addition to the core functionality of the COMSOL Multiphysics® software platform.
The AC/DC Module includes the tools necessary for modeling:
Capacitors
Inductors
Insulators
Dielectric stress
Coils
Motors
Sensors
Solenoids
Circuit parameter extraction (R-, L-, Z-matrices)
Parasitic capacitance and inductance
Combined SPICE circuit and field simulations
Electric welding
Electric insulation
EMI/EMC
Electromagnetic shielding
Capacitive touchscreens
Magnetic bearings
Electromigration
Induction furnaces
Induction logging
Dielectrics
Generators
Permanent magnets
Electromagnets
Actuators
Plungers
Transformers
Transmission lines
Graphene
Electromachinery
Electronics reliability
Electrical contact resistance
Electromagnetic fields in porous media
Multiphysics Couplings
Included in the AC/DC Module:
Induction heating
Joule heating and resistive heating
Deformation and stress due to electromagnetic force and torque
Lorentz forces in solids and fluids
Accessible with additional modules:
Heat radiation
Thermal contact resistance
Bioheating
Electrostatic deformation
Piezoelectric effect
Piezoresistive effect
Electrostriction
Magnetostriction
Thermoelectric effect
Joule heating in layered materials
Inductively coupled plasma
Capacitively coupled plasma
Tissue ablation
Charged particle tracing
Dielectrophoresis
General single- and multiphysics optimization
AC/DC Module Features and Functionality
Explore the features and functionality of the AC/DC Module in more detail by expanding the sections below.
Design Electromagnetic Devices and Systems for the Real World
The products, devices, and components you design for the static or low-frequency range need to operate safely in the real world. For a comprehensive analysis, use the COMSOL Multiphysics® software and the AC/DC Module to see how multiple physics affect your design.
Most electromagnetic components, devices, and products are affected by another branch of physics, whether it be heat transfer, structural mechanics, or acoustics, to name a few. For the most accurate study possible, you can examine a variety of these effects simultaneously. The COMSOL Multiphysics® platform enables you to couple multiple physical effects in one software environment.
Toda empresa possui uma necessidade de simulação diferente. Para avaliar se o software COMSOL Multiphysics® atenderá ou não aos seus requisitos, entre em contato conosco. Ao falar com um de nossos representantes de vendas, você receberá recomendações personalizadas e exemplos totalmente documentados para ajudá-lo a aproveitar ao máximo sua avaliação e orientá-lo a escolher a melhor opção de licença para atender às suas necessidades.
Basta clicar no botão "Contate a COMSOL", preencher seus dados de contato, fazer qualquer comentário ou pergunta, e enviar. Você receberá uma resposta de um representante de vendas em um dia útil durante o horário comercial.
Próximo Passo:
Solicite uma Demonstração ao Vivo do Software