Chemical Reaction Engineering Module
Model Mass and Energy Balances with the Chemical Reaction Engineering Module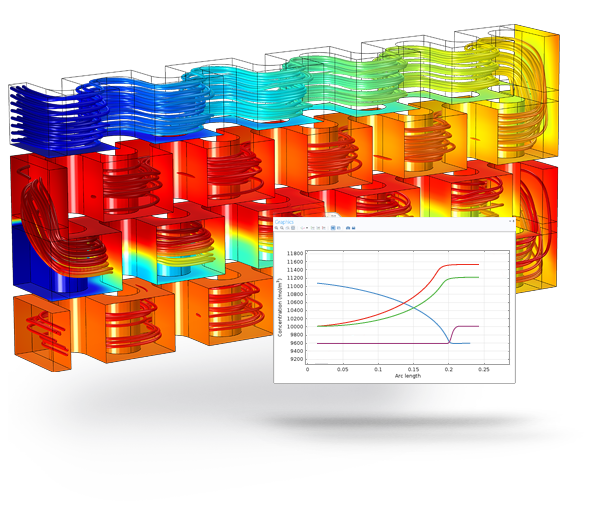 Perfeito Para Todas as Indústrias Químicas e de Processos
Otimizar reatores químicos, equipamentos de filtração, misturadores e outros processos fica mais fácil com o Chemical Reaction Engineering Module. Ele contém ferramentas para simular o transporte de espécies e a transferência de calor junto com cinéticas químicas arbitrárias em todos os tipos de ambiente – gases, líquidos, meios porosos, sobre superfícies e dentro de fases sólidas – ou combinações de todos esses. Isso o torna perfeito para todas as aplicações das indústrias químicas e de processos e até mesmo dentro da engenharia ambiental, onde a "unidade de processos" ou o "reator químico" é o meio-ambiente.
Convecção e Difusão Com Cinéticas Químicas Arbitrárias
O Chemical Reaction Engineering Module contém interfaces intuitivas para você definir o transporte de materiais em soluções ou misturas diluídas e concentradas por convecção, difusão e migração iônica de um número arbitrário de espécies químicas. Elas se conectam facilmente a definições de cinéticas de reação reversíveis, irreversíveis e de equilíbrio que podem ser descritas pela equação de Arrhenius, ou qualquer lei de taxa arbitrária, onde os efeitos da concentração e da temperatura sobre a cinética podem ser incluídos. A interface para definir reações químicas é direta, visto que fórmulas químicas e equações são inseridas essencialmente como se você as escrevesse no papel. O COMSOL define as expressões de reação adequadas usando a lei de ação das massas, que você pode alterar ou sobrescrever com suas próprias expressões cinéticas. A estequiometria em suas fórmulas de reação é usada para definir automaticamente balanços de massa e energia, sejam eles homogêneos ou heterogêneos, ocorrendo em volumes ou em superfícies.
---
Imagens adicionais:
Fenômenos de Transporte Completos
Ferramentas para cálculo de propriedades termodinâmicas, inclusive oriundas de fontes externas, são incluídas no Chemical Reaction Engineering Module a fim de aumentar o acoplamento do transporte de calor e balanços de entalpia ao transporte de espécies e reações químicas. Interfaces com o usuário para definir o transporte do momento também estão disponíveis, levando-se em conta a descrição completa dos fenômenos de transporte do processo. Isso inclui escoamento laminar e escoamento em meios porosos descritos pela equação de Navier-Stokes, pela Lei de Darcy e pelas Equações de Brinkman. Acoplando o CFD Module ou o Heat Transfer Module à modelagem, também é possível incorporar escoamento turbulento, multifásico e não isotérmico, bem como a transferência de calor por radiação.
Essencial Para Otimizar Seus Processos de Reação Química
O Chemical Reaction Engineering Module é útil para engenheiros e cientistas que trabalham nas indústrias química, de processos, de energia elétrica, farmacêutica, de polímeros e alimentícia, onde o transporte de espécies e a reação química constituem parte integrante dos processos com que trabalham. Ele oferece ferramentas para estudar todas as facetas dessas aplicações: desde estudos em tubo de ensaio em um laboratório à reestruturação de um reator químico no meio de uma usina. Suas cinéticas químicas podem ser simuladas intrinsecamente em ambientes controlados para descrevê-las com precisão usando recursos integrados para estimar parâmetros e compará-los a dados experimentais. A partir daí, o Chemical Reaction Engineering Module fornece vários tipos de reatores predefinidos para estudos mais avançados:
Reatores em batelada e semibatelada
Reatores-tanque de agitação contínua (CSTR)
Reatores de escoamento constante (Plug Flow)
Eles são todos fornecidos com definições adequadas para massas ou volumes constantes ou variável, bem como condições isotérmicas, não isotérmicas e adiabáticas. Perfeitos para incorporar sua cinética otimizada em um ambiente de processos, esses modelos simples permitem um melhor entendimento de seu sistema e permitem que você simule uma infinidade de diferentes condições operacionais. Com todo o conhecimento que você ganha dessa maneira, sua próxima etapa é otimizar o projeto de sua unidade e refinar suas condições operacionais por meio de um modelo 2D axissimétrico ou modelo 3D. O recurso Generate Space-Dependent Model pode ser usado para incorporar totalmente balanços de massa e energia do seu sistema junto com o escoamento e a velocidade de reação.
Simulating the Release Mechanism in Drug-Eluting Stents
T. Schauer, I. Guler Boston Scientific Corporation, MN, USA
Stent insertion through the coronary artery is a common procedure used to treat restricted blood flow to the heart caused by stenosis. Following the procedure, restenosis may occur due to excessive tissue growth around the stent. Researchers at Boston Scientific are using multiphysics simulation to better understand how drug-eluting stents ...
Modeling the Electrochemistry of Blood Glucose Test Strips
Stephen Mackintosh Lifescan Scotland UK
Lifescan Scotland is a medical device company that designs and manufactures blood glucose monitoring kits for the global diabetes market. These involve the self-monitoring of blood glucose levels through specialized monitoring systems and test strips that comprise of a plastic substrate, two carbon-based electrodes, a thin dry reagent layer, and ...